Tourist information in Bradford-on-Avon 'to continue'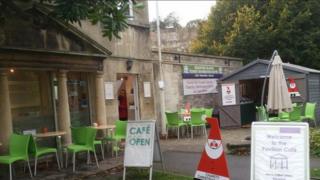 The chief executive of Wiltshire's official tourist information website has said he is optimistic a service for visitors to Bradford-on-Avon will continue.
The town's tourist office in St Margaret's Street closed last week because of financial difficulties.
David Andrews from Visit Wiltshire said the "signs are good" that a solution can be found.
A temporary centre has been set up at the neighbouring Pavilion Cafe.
Mr Andrews said: "We've already had several local businesses offer to stock and rack visitor information such as tourist brochures and leaflets, which is what happens in Devizes after their tourist information closed down four or five years ago.
"We're in the off season now. If we can find a solution in the next few days or weeks the impact will not be too significant [on tourist numbers].
"What's important is that we continue to build and sustain the tourism industry and visitor economy in Bradford-on-Avon."
A spokesperson for Bradford-on-Avon Area Tourism Association said the centre was winding up due to financial difficulties, but said it would be inappropriate to comment further.
The town council gave a grant of £14,750 to the tourist information centre last April. It is unclear whether the money will be returned.
Discussions between tourism bosses, the town council and local business leaders are ongoing to try to find a way of continuing a tourism service in the town.