Rorke's Drift: Rare eyewitness account sells for £15.5k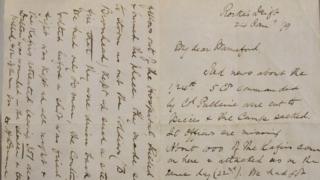 A rare eyewitness account of the defence of Rorke's Drift, featured in the 1964 film Zulu, has been sold at auction for £15,500.
Walter Dunne's letter, dated 24 January 1879, describes how he and 150 British troops defended the outpost in South Africa.
The heroic stand saw 11 Victoria Crosses (VC) awarded, more than for any single battle before or since.
Assistant Commissary Officer Dunne was recommended for a VC but turned down.
ACO Dunne, from County Cork, was in charge of the stores at the Rorke's Drift mission station.
In the letter, written to his friend Captain WJ Warneford, he reveals how he and a comrade fortified the outpost with a 5ft (1.5m) high barricade of 200lb (91kg) mealie bags.
'Written hours after'
Discovered in an album of letters, paintings and other items collected by Capt Warneford's wife, the letter was sold by Wiltshire auctioneers Henry Aldridge and Son.
"Generally speaking, anything from the battle is rare," said auctioneer Andrew Aldridge.
"So it is a genuine honour to sell such an important letter written only a matter of hours after one of the most famous battles in British military history."
The 12-hour defence of Rorke's Drift featured in the 1964 film Zulu starring Sir Michael Caine and Stanley Baker.
The battle began on 22 January 1879 and continued until the early morning of the following day
It was part of the Anglo-Zulu war which broke out after the British invaded southern Africa
The British victory in the war caused the end of the independent Zulu nation
The British and colonial forces suffered 18 losses while Zulu losses were estimated at about 600
The events formed the basis of the Michael Caine film Zulu in 1964