Sian O'Callaghan murder: Police examine item taken from ditch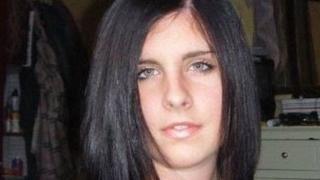 Police searching a field in Wiltshire for items belonging to murdered Swindon woman Sian O'Callaghan are examining an item found in a ditch.
Wiltshire Police said the search followed information the 22-year-old's property may be in the area.
A force spokeswoman said it was unable to confirm whether the unnamed item belonged to Miss O'Callaghan.
She was killed by taxi driver Christopher Halliwell, who is serving 25 years for her murder.
The search, which concluded earlier, was concentrated on a field between the villages of Bourton and Bishopstone.
The force spokeswoman said the item was found in a ditch at the edge of the field and had been removed for forensic analysis.
Detectives were hoping to find her handbag, keys and mobile phone in order to return them to her family.
In October 2012, Halliwell was jailed at Bristol Crown Court after admitting Miss O'Callaghan's murder.
Her body was found near the Uffington White Horse in Oxfordshire.
Following his arrest, he led detectives to the body of Becky Godden in Gloucestershire but was not prosecuted over her death after a judge ruled detectives had ignored arrest guidelines.