B&Q donation over Melksham lights advert blunder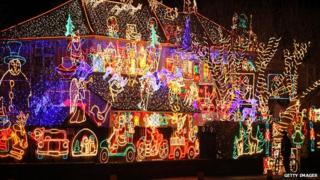 DIY giant B&Q has donated £8,000 to charity after a picture of a famous Christmas lights display was used on an advert without permission.
The display in Melksham, Wiltshire, is visited by hundreds of people and raises cash for Dorothy House Hospice.
But the store angered residents when the photo was used in the Daily Mirror as part of a campaign to sell Christmas lights.
An online petition signed by 3,500 people called on B&Q to donate cash.
Colin Goodhind, who owns the house in Longford Road, said: "We're obviously very grateful for the donation they've made, but disappointed it took a petition to do that."
A B&Q spokesman said: "B&Q has donated £8,000 to the Longford Road Christmas Appeal for the Dorothy House Foundation with our very best wishes.
"Melksham's festive display is absolutely magnificent which is why we believe the Daily Mirror decided to use it in their Christmas feature article that B&Q has sponsored.
"We have also asked the newspaper to consider making a donation to the appeal as well".
The Daily Mirror has failed to comment.
The Christmas displays have adorned the house during the festive period for at least 15 years.
The petition was created by Wiltshire councillor John Hubbard after initial efforts asking for a donation were refused by B&Q.