Swindon Town rent row over ground repairs resolved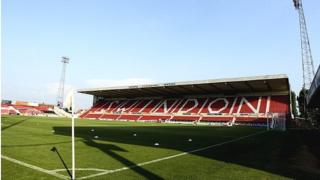 Swindon Town Football Club has agreed a settlement with the council concerning unpaid rent at the County Ground.
Swindon Borough Council said it was owed £50,000 in rent arrears at a hearing at Swindon County Court.
The club said it has spent a substantial sum, in excess of the owed rent, on repairs.
The terms of the deal between the club and the council will remain confidential, the court was told.
The County Ground, which has a capacity of 15,700, has been the club's home since 1896.