Great Western Hospital cancels further surgery due to pressure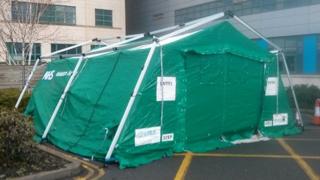 Non-urgent operations are being cancelled for a second day at a major hospital in Wiltshire.
The Great Western Hospital in Swindon said on Monday it was having to deal with "increased demand and growing pressure" on its services.
Unlike a number of other hospitals across England, it has not declared major incident status.
However steps have been taken to refer some less urgent patients elsewhere and discharge those well enough to leave.
'Back to normal'
Dr Guy Rooney, medical director at the hospital, said it was "step by step" as to when normality would return.
"We're still [operating on] patients who are urgent and who have cancer-related surgery," he said.
"We want to get back to being normal as quickly as possible, but we also have to be safe."
A large green tent was erected at the hospital earlier, with the potential to be used as a treatment facility, but South Western Ambulance Service said it would soon be removed.
"The tent was erected at Great Western Hospital purely as a precautionary measure to support the hospital," a spokeswoman for the ambulance service said.
According to the hospital, its staff are caring for around 1,300 more unplanned patients a month, compared to 2011.
It estimates that at least one in four people attending emergency departments could be treated more quickly elsewhere.
New figures out today show the performances of A&E departments across England, regarding waiting times, have dropped to the lowest level for a decade.