Swimmers brave River Thames for annual swim in Gloucestershire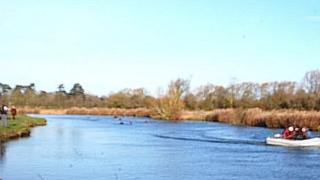 Hardy Wiltshire swimmers have braved the waters of the River Thames for an annual two-mile (3.2km) swim.
Up to 14 members of the Swindon Sub Aqua Club took part in the 45 minute swim from Inglesham in Wiltshire to Lechlade in Gloucestershire.
The event raises money for the Royal National Lifeboat Institute.
Tony Evans, one of the swimmers, said: "It's been known to take six hours but we had a bit of current behind us so it was very enjoyable."
The swim, which has been running for the past 40 years, had to be postponed last year because of flooding.
Gillian Marsh, the event's publicist, said it was "so wet" in 2014 "you couldn't even tell where the river was".
"It was postponed once and then we had several days of torrential rain and it had to be postponed again," she said.
"It was eventually run in April."