Swindon and Wiltshire 'playing economic Kerplunk with budgets'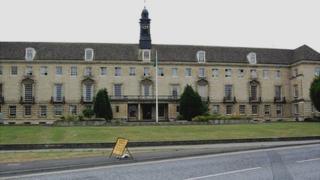 Planned cuts totalling £47m at Wiltshire and Swindon Borough councils is akin to playing "economic Kerplunk", the trade union Unison has said.
Wiltshire Council needs to save £30m and Swindon Borough Council £17m next year due to central government cuts.
Gavin Brooks, of Unison, said: "We are playing economic Kerplunk, just pulling budgets and jobs out of the system, hoping it doesn't fall down."
In February, both councils will vote on their respective planned budget cuts.
'Feeling okay'
Mr Brookes added staff had their terms and conditions cut, along with changes to their hours and contracts.
He added staff stress levels were "huge" as a result.
"As committed as they are to delivering services for communities, at the end of the day they have to think about their own financial situation," he said.
"They can see other jobs in the area that are paying the same, if not more that they could do and some are starting to look to vote with their feet."
"Who's going to come in and fill those gaps if they are created, because you can't keep cutting pay in real terms for these jobs and expect people to go into them as a career."
Neither council has confirmed where the cuts will be made.
But Unison, which has been in discussions with both councils has claimed all departments will be affected.
Wiltshire Council leader Jane Scott, said a recent staff survey showed people were "feeling okay".
"Some departments are under more pressure than others, the pressure points are always in social care, in children and adults," she explained.
David Renard, the Conservative leader of Swindon Borough Council, said: "We are aware we're asking more of our staff and there are fewer of them but we have to balance the budget and only got so much money in the pot."
The budget will be decided on 5 and 24 February at Swindon and Wiltshire councils respectively.