Funeral of Dozy, of Dave Dee, Dozy, Beaky, Mick and Tich, held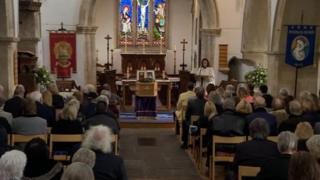 The funeral of Trevor Ward-Davies, best known as Dozy from the 60s pop group Dave Dee, Dozy, Beaky, Mick and Tich, has taken place in Wiltshire.
The bass guitarist and founder member of the band died at the age of 70 on 13 January following a short illness.
From 1965 to January 1970, the group spent more weeks in the UK singles charts than The Kinks or The Who.
Former members of the band were among those who attended the service at St John the Baptist church in Pewsey.
John Dymond, known as Beaky, spoke at the service and described his bandmate as "a lovely man".
Paying tribute to her husband, Ward-Davies's wife Yvonne said: "He was such a happy go-lucky friendly guy."
She described him as a joker who said "if anyone cries at my funeral, I'll never speak to them again".
Son Darren said when his father was at home "he wasn't the pop star" and it was a "normal family".
The flamboyant band, named after the five friends' nicknames, formed in Salisbury in 1961.
They first entered the UK charts in December 1965 with You Make it Move.
A string of hits followed including Hold Tight, Bend It and Save Me and a UK number one single with the whip-cracking Legend of Xanadu, in 1968.
Two of their albums charted - their eponymous debut in 1966, followed a year later by If Music Be the Food of Love... Then Prepare for Indigestion.
In 2009, lead singer Dave Dee died at the age of 65.