The Range Chippenham site: More than 1,200 object to plans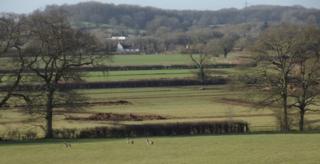 More than 1,200 people have signed a petition objecting to plans to build a distribution centre in Chippenham.
The Range wants to build the 72,000 sq m regional centre and "flagship" store on land next to the A350.
Campaigners say it would disturb an archaeological site, cause traffic jams and be inappropriate for the site.
The developer said there was local support for the plans, which will create 1,000 jobs and bring £31m each year into the Wiltshire economy.
Howard Ham, from the Allington Action Group, said: "It's a green field site sandwiched between a leafy suburb of Chippenham and a conservation area.
"It's going to clog the main road, the A350 round Chippenham.
"Once you set a precedent of crossing the A350 [with a development] it'll spread like wild fire."
'Create jobs'
Oliver Bertram, from the applicants First Chippenham, said: "The overwhelming level of support reassures me that a great number of people in Chippenham and the surrounding area are supportive of our plans for The Range.
"Our proposals will ensure long term investment in Chippenham to the benefit of local residents.
"A regional distribution centre and retail store will create hundreds of employment opportunities and will inject millions of pounds into Chippenham's economy annually."
An online petition, objecting to the plans, has received more than 1,200 signatures, while over 900 people have signed a separate petition calling for the development to go ahead.
More than 1,000 people have also written to Wiltshire Council to comment on the plans, with about 90% saying they are against the idea.
A council consultation into the plans is due to end on 5 February.