Salisbury's Hillcote respite centre to close in June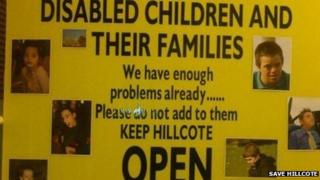 A respite centre for families of severely disabled children in Wiltshire is to close in the summer.
Hillcote in Salisbury, which costs £600,000 a year to run, was to shut last April after Wiltshire Council and the NHS said it was not cost effective.
However, the Clinical Commissioning Group (CCG) delayed the closure for a year to ensure "a smooth transition" for the families involved.
It has now confirmed that the centre will close permanently on 30 June.
A spokeswoman said that up until the closure date the CCG would be "working with, and monitoring the situation with the families involved".
Eight children use the unit and a campaign group to keep it open was set up in 2014 after parents were told of the proposal to close it.
Dr Angela Scott, from the group Save Hillcote, said she was "very sad" about its closure.
"I understand it cost a lot to run the building, but we have lost this service forever," she said.
'Money reinvested'
Closing Hillcote means children will have to travel to a centre in Devizes, about 25 miles (40km) away.
A Wiltshire Council spokeswoman said there had been a wide consultation on how to improve the way overnight short breaks are provided for families with disabled children, and a package of support was available for affected families.
"All the money saved by closing Hillcote will be reinvested into the overnight short-break service for families across Wiltshire to ensure they have a choice about the type of care that is best for them," she said.
"There will be increased funding for the Children's Learning Disability Nursing Service, which provides early intervention services to families.
"This is already working well in other large, rural counties like Dorset and Gloucestershire and we are sure it will be a success in Wiltshire too."
She said Wiltshire Parent Carer Council, which represents nearly 800 parent carers of children and young people with disabilities and/or special educational needs, was supportive of the changes.