South Wilts Grammar School teacher struck off for pupil affair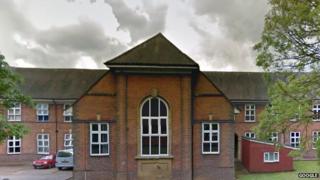 A Wiltshire teacher has been banned from teaching for life after she had a relationship with a pupil.
Debbie Evans, 55, who was head of art at South Wilts Grammar School, in Salisbury, began a two-year affair with the girl when she was 18.
A professional conduct panel heard a sexual relationship began a few months after Ms Evans supported the pupil when she was taken ill at school.
Ms Evans has 28 days in which she can appeal against the decision.
The panel was told the girl's parents contacted the school to report the alleged relationship after it ended in 2013.
The girl - referred to as Student A - was no longer a pupil at that time and Ms Evans, who had worked at the school since 1990, resigned from her job.
The panel heard she had, until then, had a long and unblemished career as head of art and was a respected member of the school team.
But in March 2014, the school determined that, had Ms Evans remained at the school, they would have found her guilty of gross misconduct.
Having heard all the evidence, the panel found Ms Evans abused her position of trust by entering into an inappropriate relationship with Student A and that her conduct was sexually motivated.
The panel found her guilty of unacceptable professional conduct and recommended the secretary of state ban her from teaching for life. The secretary of state agreed.