Bradford on Avon votes against pedestrian friendly centre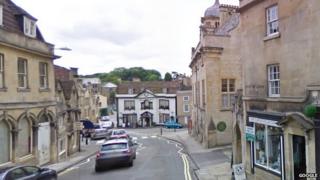 People in Bradford on Avon have voted against making their town centre more pedestrian friendly.
A poll of residents held in the Wiltshire town on Thursday night saw a turnout of almost 40% - 2,984 voters.
The plans by Wiltshire Council would have seen wider pavements and 25 pedestrian crossing points, many defined by bollards.
A total of 1,315 voted in favour and 1,669 were against. Five votes were rejected.
Wiltshire Council had been working with the town council to draw up plans for the Historic Core Zone scheme which would have seen the creation of a clearly identifiable zone in the centre of the market town, warning drivers about the presence of pedestrians.
A series of four public meetings and an exhibition gave residents a chance to explore the proposals to reduce the dominance of traffic.
The design and funding was in place for phase one of the scheme, which would have covered Market Street and Church Street. Later phases would have covered Silver Street and St Margaret's Street.
The Mayor of Bradford on Avon, John Potter, said: "Personally I am really disappointed. I think it would have made a massive difference to the town centre.
"It would have transformed it, made it look bright and tidy and, dare I say, modern.
"Wiltshire [Council], which has has spent quite a lot of money on this project, will be a bit disappointed to realise it's all been rather wasted."