Wiltshire Chief Constable in retirement U-turn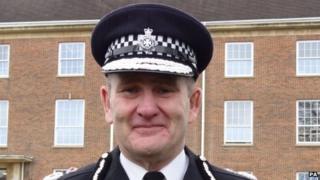 The chief constable of Wiltshire Police is to delay his retirement until an independent police investigation into his conduct is concluded.
Last week, Patrick Geenty said he would stand down in May, but since then the police force has changed its position.
The Independent Police Complaints Commission (IPCC) is looking at how Mr Geenty dealt with sexual abuse claims.
Police and Crime Commissioner Angus Macpherson said he had not yet formally accepted a leave date for Mr Geenty.
Mr Macpherson said: "He's a man who wants to get this out of the way, but on the other hand it's patently not fair on him or his family to have this hanging on him for excessive amounts of time and I have called on the IPCC to get on with it."
Previously, the commissioner said he was "personally disappointed" to be losing "an exceptional officer and leader" in Mr Geenty.
The investigation, which began in September, focuses on a period from 2008 to 2009.
An inspector and detective constable from the force are also being investigated.
An IPCC spokesman said: "It is our view that Mr Geenty should not be allowed to retire while our investigation is ongoing and before the conclusion of any proceedings that may follow."
Mr Macpherson said the chief constable was "committed to remaining in post" until the investigation had ended.
Mr Geenty was appointed acting chief constable in May 2012 and his post became substantive in January 2013.