Marilyn Monroe photo from test shoot sells for £3,100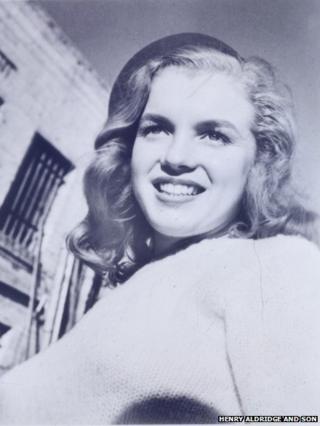 A test photograph from a shoot of Marilyn Monroe when she was 20 years old has sold at auction for £3,100.
The image was taken by a professional photographer when the unknown Norma Jeane Baker was an aspiring model working in a factory.
Auctioneer Andrew Aldridge said: "It's a very down to earth image, but it also shows a very young Norma Jeane."
The picture was sold along with the negative and copyright to a collector of showbiz pictures, Mr Aldridge said.
'Big screen'
In 1946, Norma Jeane Baker was working at a munitions factory when a passing military government photographer told her she could be a model.
She approached a Hollywood modelling agency, Blue Book, and aspiring photographer Joseph Jasgur was assigned to put her first portfolio together.
"It's in very, very early 1946 before she's even come close to the big screen and the big time," said Mr Aldridge.
The auctioned image was taken at Zuma Beach in Malibu prior to the main shoot.
The pictures made Jasgur famous and helped create the star who would go on to become Marilyn Monroe.
The sale took place earlier at Henry Aldridge and Sons in Devizes.