Swindon man in Filipino jail 'could be released early'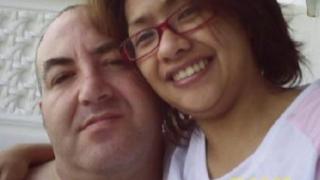 The family of a Wiltshire man jailed in the Philippines say they are hopeful he could be released early.
Kevin Taylor, from Swindon, was found guilty of fraud last year but maintains he is innocent.
The Filipino government has said it will free about 200 prisoners as a gift to the Pope who visited last month.
Taylor's father, Gerald, said he had made a written application for his son to be one of them, outlining the impact jail has had on him.
Prisoners who are old or sick can apply for one of the presidential pardons.
Taylor, 49, is currently serving an eight-year sentence. He spent the previous five years in jail awaiting trial.
'Almost destitute'
His father said: "He's just an ordinary chap who went over there with his savings to start up a business, but it all backfired.
"He's shattered by ill health due to inadequate prison diet and conditions, shattered by becoming almost blind, shattered by losing contact with his young children, shattered by seeing us - Mary [his mother] and I - rendered almost destitute fighting his cause.
"If he's got no medication, then he's really in trouble. He's on pills to make him sleep, pills to wake him up, vitamin pills, blood pressure pills, now he's got the dreaded disease of scabies.
"He had trouble with his left eye before he went, but now that's really deteriorated and it's gone in that eye completely. His right eye, he can only see shadows, he has to be led around.
"We've had a good response from this department [of justice]. We are very pleased because we thought when we put in the application they would just look at it and throw it away.
"They've responded, they've been very good. We are just waiting now for the next stage."
'Sleep on floor'
Taylor said he only found out about the possibility of a pardon from his father.
He said: "I hope it comes through because it's really taking its toll on Charlene [his wife] and I right now.
"I've lost a lot of things. A lot of clothing, a lot of food, has just gone missing, and then I've been extorted for money.
"Last Monday there was an altercation in the cell and I had to be removed for my own safety and put in another cell. I was made to sleep on the floor and had to pay another 500 pesos incoming fee. It's so unfair all the time."
The Foreign Office said it could not comment on individual cases.