De la Soul named headline act for Womad festival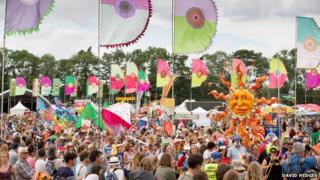 Rap legends De La Soul will be the headline act at this year's Womad, the festival's organisers have announced.
Other highlights at the world music festival will include Tinariwen and folk music band Bellowhead.
Festival director, Chris Smith said: "I'm really excited about De La Soul, hip hop is a big thing for Womad."
Last year the event sold out for the first time since it relocated from Reading in 2007 to Charlton Park near Malmesbury, Wiltshire.
'Just as good'
Mr Smith added: "There will also be far more artists that you would never have heard of but are just as good, like 47Soul and Aurelio."
In 2014, the festival had 184 performances by 106 artists from 42 countries.
Irish singer Sinead O'Connor was a last-minute replacement for the late soul legend Bobby Womack as the closing act.
The American singer, songwriter and guitarist died aged 70 a month before the festival.
Mr Smith added: "There has been a crisis in people buying music, but watching music is very much on people's agenda. But a festival is more than just that, the music is at the core of it but there is so much going on."
Some 40,000 people attended last year's festival.