Robert Downey Jr donates raffle prize for Wiltshire children's hospice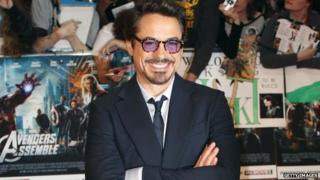 Hollywood star Robert Downey Jr has donated a "once-in-a-lifetime" raffle prize to raise money for a new children's hospice in Wiltshire.
The Iron Man actor is offering the chance to join him on the red carpet for the world premiere of his new film Marvel's Avengers: Age of Ultron.
All proceeds will be given to the Dorset-based charity Julia's House.
Louise McKenna, from the charity, said: "He promised he would help us and he's more than lived up to his promise."
Julia's House, which offers home-based community care in South Wiltshire, is planning to build a £3m children's hospice for respite and end of life care in Devizes or Trowbridge.
To raise funds for the new hospice, film director Guy Ritchie organised a private clay shoot and auction at his home on the Dorset-Wiltshire border last summer.
'Website crashed'
"Robert Downey Jr actually attended the event and promised he would do something for us," said Ms McKenna.
"We really didn't know how much he would offer us and we had no idea that it would be quite this phenomenal."
Along with the chance to join the Hollywood star on the red carpet, the raffle prize also includes a helicopter flight over Los Angeles and indoor sky diving.
"It's fantastic. He's such a global superstar, we're hoping to raise maybe £500,000 but it may be more than that," said Ms McKenna.
"I know the website's crashed already with the amount of people going on it so quickly, so it could be more that that - let's hope it is."