Major exercise on Salisbury Plain to test Army 'readiness'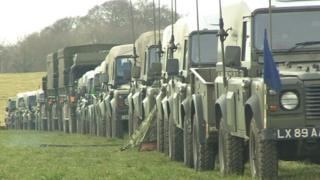 Hundreds of Army vehicles and more than 1,500 troops are taking part in a major military exercise on Salisbury Plain.
Tanks, armoured vehicles and personnel are being put through their paces to test the Lead Armoured Task Force's ability to be ready at short notice.
Changes in the structure of the UK's forces mean many rapid response units are now based in the region.
Cpt James McClenaghan, from 4 Armoured Medical Regiment, said: "What it helps us do is prove our deployability."
The three-week training exercise, which includes a 50km (31 mile) road test across the Wiltshire plain, involves units mainly from 12th Armoured Infantry Brigade.
Bringing together "manpower and equipment from across the Army", the exercise is set to become an annual event to ensure the forces are "adequately prepared".
Brigadier Roly Walker, who commands the brigade, said: "We are going to prove we can bring a fleet and a crew together to form a task force, so if the country needed us to intervene overseas, we're ready.
"Although it is a large exercise, this is relatively modest - what we will aspire to do is bring a whole brigade together and in the future you could see even larger formations coming together."