Wiltshire Council's unused car park may be sold off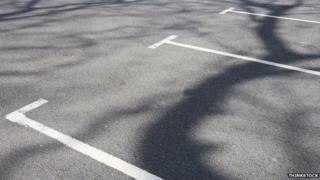 An unused public car park in Devizes could be sold off, given to the town's museum or be rented out to local firms, a council review has said.
The proposal is part of an overall review by Wiltshire Council into car park usage across the county and price changes and modernisation.
The report also found there were 20 "low viability" car parks, including the unused Castle Grounds in Devizes.
Cabinet members will decide whether to approve the proposals on 17 March.
'Free parking'
Wiltshire Council's deputy leader, John Thomson, said: "One of the proposals [for Castle Grounds] is to have that as a free parking space for use by Devizes Museum and help support the museum.
He added Conservative-run Wiltshire Council would also offer to transfer responsibility for the low-use car parks to town councils.
The review also included the results of a public consultation, in which 5,000 people and organisations took part.
Plans to bring in one-hour free parking were rejected as it would cost the council £2.7m a year in lost revenue.
The main recommendations for car parks were:
A 15-minute grace period before being fined, if a ticket has been bought
Westbury car parking fees to fall in a bid to boost usage
Prices will go up in Chippenham and Marlborough - both of which are already over-capacity
Salisbury will see some reductions to boost usage for shoppers and tourists and the city's park and ride will be improved to encourage commuters to use it more
New technology will be introduced to show where free spaces are and also cashless ticket machines