Swindon teacher Ian John Howard 'used excessive force'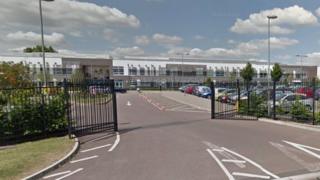 A teacher who used "repeated episodes of excessive and unnecessary force" against pupils has been banned from the classroom for at least four years.
Ian John Howard, who taught humanities at Headlands Secondary, was dismissed in 2013 by the school which became Swindon Academy in 2007.
He was a "gifted classroom teacher" of previous good character, the Professional Conduct Panel report said.
Mr Howard, of Swindon, was barred from teaching indefinitely.
He can apply for the prohibition order to be set aside after a minimum of four years.
The panel was told the alleged incidents took place between 1991 and 2013 and involved 12 pupils - though some were unproven due to lack of evidence.
Frogmarched pupil
In one incident, proven by the National College and Teaching Leadership Panel, he shouted at pupils in the dinner queue to stop pushing.
Mr Howard pushed one pupil causing him to fall over before "frogmarching" him to the other side of the dinner hall.
In another incident in 2004, Mr Howard removed, or tipped, a pupil's chair after being asked three times whether he was interested in doing the lesson.
The panel considered the chair-tipping "amounted to inappropriate physical force".
An allegation of grabbing the same pupil's wrists and placing them behind his back "may have been a response to a direct physical attack and his response may have fallen within the scope of the school's policies", the panel said.
It was satisfied Mr Howard's conduct "fell significantly short of the standards expected of the profession".
The panel said he acted with "excessive and inappropriate force on a number of occasions" over the course of several years.
A Swindon Academy spokesman said: "Despite support and training following previous warnings, Mr Howard's behaviour fell below the high standards we expect of staff.
"Every child attending school should expect to be treated with respect, fairly and without fear. That is why we welcome this decision."