Wiltshire College opens £3.6m construction centre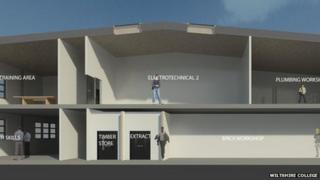 The official opening of Wiltshire College's £3.6m construction skills centre is due to take place later.
To mark the event, students will display their building and construction skills to local construction firms.
Steve Gingell, from the college, said the planned events would also "allow students to showcase what are state-of-the-art modern facilities".
The centre in Trowbridge, which offers gas training, plumbing and carpentry courses, opened in January.
A total of 3,300 full-time students and 6,000 part-time students attend the college's four campuses in Salisbury, Chippenham, Trowbridge and Lackham.