'Exclusion zone' at Salisbury firework display blamed for injuries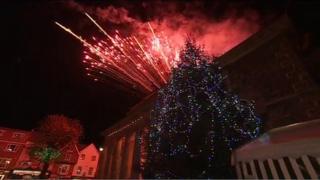 A report into a fireworks display in Salisbury which saw eight people injured by a stray firework has blamed an "inadequate exclusion zone".
Salisbury City Council organised the fireworks for its Christmas lights switch-on event on 20 November.
But a faulty firework caused injuries including cuts and burns.
The report, to be presented to the council later, said people were put at "serious risk" from falling debris by not being kept far enough back.
Salisbury City Council commissioned a pyrotechnics expert, Dr Tom Smith to investigate the factors leading up to the incident.
'Fallout distances'
The faulty firework was placed on the roof of the Guildhall, as had been done for several years.
Dr Smith said the fireworks company, SmartPyro did not have an adequately sized exclusion zone to protect people, even when fireworks functioned correctly.
He said: "It seems that some of the injuries occurred in the area which would [in an easterly wind] be inside the fallout distances. Even if product failure had not occurred there was a significant risk to people in this area."
He also noted there was no safety plan if the fireworks failed only a reliance on the quality of the fireworks used.
The full council meeting will be held at 18:30 GMT on Monday evening.