Wiltshire solar farm plans approved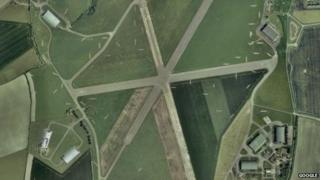 Plans for a huge solar farm at a former airfield near Swindon have been approved following a public inquiry.
It means 160,000 solar panels will be erected at the old RAF Wroughton site.
Swindon Borough Council approved plans for the project in December 2013 but it was called in last April, and a public inquiry was held last September.
The scheme is a joint venture between the Science Museum Group, which owns the site, and Public Power Solutions, which is a subsidiary of the council.
Developers say the 170 acre (67 ha) site will generate of 42MW of power - enough for 12,000 average households each year.
Matt Moore, from the Science Museum Group, said: "It's been a long wait, but we're really pleased to have been given the go-ahead."
The plans are opposed by North Wessex Downs Area of Outstanding Natural Beauty, who say it will "undermine the beauty" of the landscape.
Director Henry Oliver said: "It's a power station slap bang in the middle of an area which is supposed to have the highest level of protection."
The solar park is expected to be completed by the autumn.