Wiltshire twin stabbed 'millimetres from heart'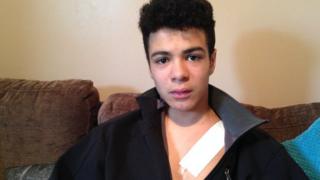 A 16-year-old twin boy who was stabbed "millimetres from his heart" said he and his brother were trying to protect each other from their attacker.
The boys were on their way home from a party at Dilton Marsh, near Westbury in Wiltshire at about 23:00 GMT on Saturday when the man approached them.
Tyler Gane was taken to hospital with a deep slash to his chest. His brother was cut on both his hands.
Det Insp Paul Franklin said Tyler was "lucky to be alive".
'Blood all over my shirt'
"The wound was so deep it was millimetres away from his heart and arteries," said Det Insp Franklin.
Tyler Gane said the attack had "not sunk in yet".
"There was a bit of shouting and I saw the man waving the knife then after he did it he just ran.
"I don't know why he did it.
"I remember the girls screaming and I looked down and saw blood all over my shirt."
Det Insp Franklin said he believed the attacker could be local as "there was no car in sight and it's a very residential area".
The attacker is described as being aged between 20 and 30, 5ft 8in (1.72m) tall, with short black hair.