Wiltshire Council rejects FOI over metal theft fears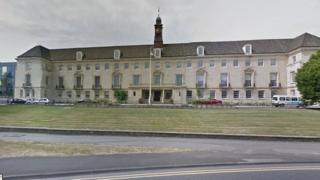 A councillor was denied information about vacant properties over fears it could encourage metal theft.
Lib Dem Jon Hubbard asked Wiltshire Council about the maintenance costs of empty buildings in a Freedom of Information request.
The query was refused by the Tory-run authority as it did not want to make the information public.
Mr Hubbard said: "Frankly I am astonished that they think this is an acceptable response."
'Security risk'
The Freedom of Information request asked for a full list of vacant properties owned by the council and the cost of maintaining them.
The reply stated: "We do hold a list of vacant empty buildings but releasing an itemised list such as this out into the public domain could be used to plan a trip around the country to strip copper wire and lead from the roof of each property."
The request was refused on the grounds it would not be in the public interest.
A spokesman from Wiltshire Council said: "As our responses to FOI requests are available to the public, releasing information about vacant council buildings through the FOI process could potentially pose a security risk.
"We have agreed to share the requested information with Councillor Hubbard directly from the relevant council service, rather than going through the FOI process."