Salisbury Cathedral's peregrine falcons lay two eggs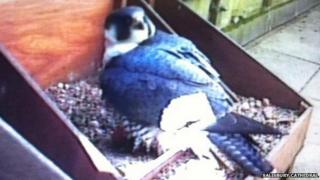 Peregrine falcons who have returned to nest on the spire of Salisbury Cathedral have laid two eggs, a spokesperson confirmed.
A year ago three chicks became the first to hatch in a new nesting box halfway up the cathedral's 123m (403ft) spire, for more than 60 years.
The box was installed on the south side of the cathedral tower with the help of the RSPB.
The cathedral is "the ancestral home of the 'urban' peregrine", the RSPB said.
A first egg was noticed on Tuesday, with a second egg spotted earlier, the cathedral said.
The eggs take about 30 days to incubate so chicks are expected in mid May.
Birds on screen
Gary Price, the cathedral's clerk of the works, has been working with the Salisbury branch of the RSPB on Project Peregrine since 2013.
"It looks as if the peregrines may be a fixture now which is incredibly exciting," said Mr Price.
Two cameras will be fixed to film the birds - one on the nest and one on the parapet wall allowing people to see the birds come and go.
A screen will be placed in the cathedral cloisters for visitors to watch the nest with the chicks due to fledge in June or July.
Peregrine falcon numbers rapidly declined during the 19th and 20th Centuries due to illegal shooting and use of certain pesticides on farms.
There are currently 1,500 breeding pairs of the protected bird in the UK, the RSPB believes.