Robert Downey Jr raffle raises £1m for Julia's House hospice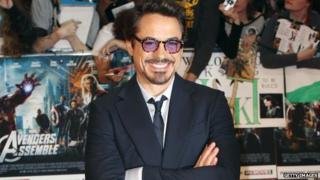 A raffle prize offered by Robert Downey Jr has helped raise nearly £1m for new children's hospice in Wiltshire.
The Iron Man actor offered the chance to join him on the red carpet for the world premiere of his new film Marvel's Avengers: Age of Ultron in Los Angeles.
Dorset-based charity, Julia's House, has now raised more than half of the £3m needed to build the new hospice.
Chief executive Martin Edwards said it was "absolutely surreal" for someone as famous as Downey Jr to lend support.
He said the money meant the charity could now "go shopping" to buy land for its new building.
The as-yet-unnamed winner will be flown to the United States, where he or she will be fitted for a tuxedo or ball gown before arriving at the premiere as part of the motorcade.
A helicopter flight over Los Angeles is also included in the prize.