Disabled musician told to demolish Wiltshire recording studio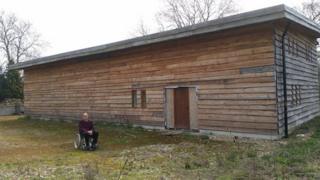 A disabled musician who spent £160,000 building a recording studio in Wiltshire with wheelchair access has been told it will have to be demolished.
Nick Allen had planning permission to rebuild a storage barn in Holt near Bradford on Avon, but it did not include conversion into a studio.
Wiltshire Council said it contravenes planning policy and must be removed.
The Planning Inspectorate and the High Court have backed the council's order.
Mr Allen said when he applied for planning permission he had "no way of knowing" his plan for the building breached regulations.
'Crying shame'
He said: "I wasn't trying to deceive the council, and if I did something wrong it was because I didn't know I was doing something wrong."
"In retrospect I should have done some homework.
"It's one of the few disabled-friendly studios that I know of and it's a crying shame that this building cannot be used."
Mr Allen said he spent all of his money building the studio and cannot afford to have it demolished.
A spokeswoman for Music Alive, a charity that provides opportunities in music for disabled people, described the situation as "ridiculous".
Wiltshire Council said it is "regrettable" that Mr Allen built the studio without applying for planning permission first, and it will consider a prosecution if the building is not demolished by 10 September.