West Coast Railway has safety licence reviewed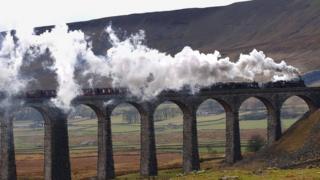 A charter train operator responsible for a steam train which overshot a junction in Wiltshire, is having its safety certification reviewed.
West Coast Railways (WCR) services were halted by Network Rail after the "most serious" case of a train failing to stop at a signal so far this year.
The suspension means WCR cannot run chartered services until 15 May.
The Office of Rail and Road (ORR) is now reviewing its safety certification, needed to operate on the rail network.
On 7 March, according to Network Rail, a WCR service between Bristol and Southend overshot the signal SN45 which protects the Wootton Bassett Junction.
The train subsequently "came to a stand" across the junction.
Ranked as the "most serious" Spad (signal passed at danger) incident that has taken place this year, the Lancashire-based company's services were suspended on 3 April.
"Our initial investigation has found significant weaknesses in the company's safety management systems," an ORR spokesman said.
"The rail regulator has notified the West Coast Railway Company that it is reviewing the company's safety certification - needed to operate trains on the rail network."