Anger over lack of water compensation in Royal Wootton Bassett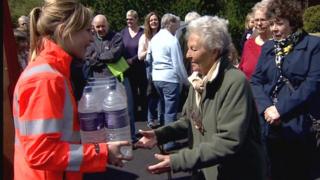 Some businesses in part of Wiltshire say they have lost two days' takings after a major water leak cut supplies.
More than 15 million litres of water from the Flaxlands reservoir, near Royal Wootton Bassett, were lost as a result of a burst main on Tuesday.
Hairdresser Sarah Smart, from Royal Wootton Bassett, said she lost 80% of her takings.
Thames Water said customers would not receive refunds as the fault was fixed within the 48-hour compensation limit.
'Real struggle'
"We can't do any colours, hair washing or perms," Ms Smart said.
"We can't offer tea or coffee, our customers can't use the toilet... I've got wages to pay and [I've lost] two days of takings."
"I know [Thames] is trying to do the best they can but unless I can get back what I've lost [in compensation] then I'm the loser."
Philip Turl, who runs a Costa Coffee shop in the town, said it had been "a real struggle"
"We can't make coffee but we can do tea and food," he said.
"Trade is down horrendously, normally at this time of the day we'd be packed out.
"We probably made a loss for the first time ever [on Tuesday]," he said.
"Water returned to Wootton Bassett and Lyneham throughout Wednesday with most customers back to normal by early evening," a Thames Water spokeswoman said.
"Our guarantee scheme offers refunds to customers if they are without water for 48-hours.
We're not aware of any households who have been without water for that long, so in this instance the payment does not apply"
"Businesses are subject to the same customer guarantee standards as domestic customers," she added.