Romanian migrants moved from 'dangerous' Swindon building site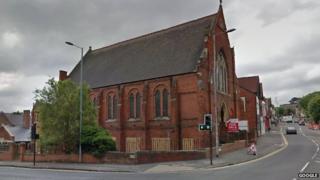 A "dangerous" building site in Swindon where a group of migrants was found to be living and working in "very poor and dirty" conditions has been shut down.
Four Romanian nationals were found by Wiltshire Police inside the Old Trinity Church in Groundwell Road.
A spokesperson said they were exposed to live electrics and unsafe flooring.
The site was visited by police and Health and Safety Executive (HSE) inspectors following a tip-off from a member of the public.
'Declined help'
HSE inspectors, who are now making further inquiries, described the building as being "immediately dangerous" and a prohibition was placed on it to halt the renovation work.
Sgt David Ibbott said: "Wiltshire Police are firmly against any type of exploitation, whether it be by economic choice or unscrupulous employers holding people against their will, in particular against those people from deprived areas of Europe.
"We offered them help with regards to being victims of human trafficking/exploitation but they declined this offer, unfortunately.
"The workers were told to quit the premises immediately and were due to be collected by their bosses from London."
According to the force, there have been previous incidents in Swindon of "unscrupulous out-of-town building companies" using cheap and foreign labour to renovate buildings.
"A couple of months ago, the old Co-op store in Cricklade Road was shut down while being renovated into flats, when 12 Romanians were found living on the site in similar poor and dangerous conditions," added Sgt Ibbott.
On each occasion, the Health and Safety Executive has closed the site down for being dangerous.