West Coast Railway has service suspension lifted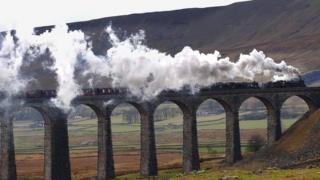 A charter train operator responsible for a steam train which overshot a junction in Wiltshire, has been told it can run passenger services again.
West Coast Railways (WCR) services were halted by Network Rail in April after one of the "most serious" cases of a train failing to stop at a signal.
Network Rail said it was now satisfied WCR had addressed "safety concerns".
Investigations by the Office of Rail and Road (ORR) and the Rail Accident Investigation Branch are still ongoing.
On 7 March, according to Network Rail, a WCR service between Bristol and Southend overshot the signal SN45 which protects the Wootton Bassett junction.
The train subsequently "came to a stand" across the junction.
Ranked as the "most serious" Spad (signal passed at danger) incident this year, Network Rail took the unprecedented step of suspending the Lancashire-based company's operating licence.
With a 15 May deadline to make improvements, a Network Rail spokesman said it was "now satisfied" that WCR had addressed "all of the actions" set out in its suspension notice.
'Safety examined'
"As a result, Network Rail has revoked the suspension as of 12:01am on Friday 8 May," he said.
Rail regulator ORR, said its inspectors would be examining the train operator's safety arrangements before services resumed.
"These checks will ensure the company has introduced the necessary changes, such as improved safety procedures, enhanced management systems and appropriate staff competence regimes," he said.
"ORR will continue to monitor WCR services for assurance that they are operating safely."