Peregrine falcon chicks hatch at Salisbury Cathedral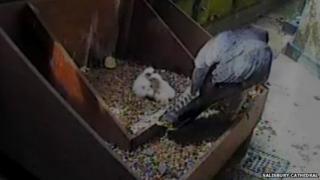 Three peregrine falcon chicks have hatched in a nest on the spire of Salisbury Cathedral.
A year ago three chicks became the first to hatch in a new nesting box halfway up the cathedral's 123m (403ft) spire, for more than 60 years.
Gary Price, the cathedral's Clerk of the Works, said the chicks can be watched from a telescope on the lawn or on a screen in the cathedral cloisters.
They hatched on Saturday and Sunday, and are due to be ringed on 26 May.
The birds take 42 days to fledge.
Four eggs were laid in the nest but the cathedral webcam has gone offline so Mr Price said they were waiting to see if there is a fourth chick to report.
Peregrine falcon numbers rapidly declined during the 19th and 20th Centuries due to illegal shooting and use of certain pesticides on farms.
There are currently 1,500 breeding pairs of the protected bird in the UK, the RSPB believes.