Bishop's pilgrimage to mark Magna Carta's 800th anniversary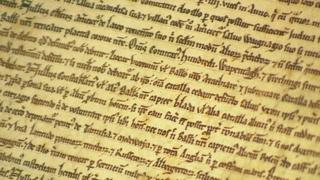 The Bishop of Salisbury has announced a "special pilgrimage" to celebrate the 800th anniversary of the Magna Carta.
The Rt Revd Nicholas Holtam will walk 4km (2.5 miles) following the same route the document itself was taken on in the 13th Century.
He is inviting people from across the diocese and the region to join him on the walk, which takes place on 14 June.
The pilgrimage is due to start at the old cathedral, Old Sarum and will continue to the current one.
The Rt Revd Holtam added: "[The] Magna Carta is one of the founding documents of the rights and freedoms which we all now enjoy.
"I hope that as many people as possible from across the diocese and region will join us as we celebrate this anniversary and acknowledge the fact that the best preserved copy of Magna Carta is housed in our cathedral."
Diocesan secretary, Lucinda Herklots, said she hoped the event would be a "fun family day out".
Salisbury Cathedral is home to one of the "finest preserved" of the four original copies of the historic charter.
The other surviving copies of Magna Carta are held by the British Library and Lincoln Cathedral.
Signed by King John at Runnymede in 1215, it is seen as the foundation of constitutional law in England.
---
What is Magna Carta?
Magna Carta outlined basic rights with the principle that no one was above the law, including the king
It charted the right to a fair trial, and limits on taxation without representation
It inspired a number of other documents, including the US Constitution and the Universal Declaration of Human Rights
Only three clauses are still valid - the one guaranteeing the liberties of the English Church; the clause confirming the privileges of the city of London and other towns; and the clause that states that no free man shall be imprisoned without the lawful judgement of his equals
The British Library has two copies of the 1215 Magna Carta
Source: The British Library
---