Balloons released to celebrate stabbing victim's life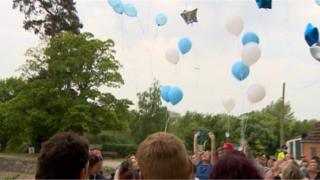 The family of a woman who was stabbed to death have released 50 balloons to celebrate her life.
Alison Connolly died in Park South, Swindon, on 12 May and was due to turn 50 in September. Two women have been charged with her murder.
The Reverend Linda Fletcher said: "There's a sense in which people want to pull together and say here we are as a community and move forward together."
The event was held at Coate Water Country Park in Swindon on Saturday.
All of the balloons were blue or white, which the family said symbolised peace and unity.
Ribbons are also being worn by people in the community of the same colours.
Mrs Fletcher added: "We just felt when Alison died it was really tragic but also that it didn't reflect the Parks community - and we wanted to do something positive.
"The idea is that people pay 50 pence and the money will go to the memorial fund for Alison so the family can buy a memorial that represents their mum."