Wiltshire prison officer steps down after 32 years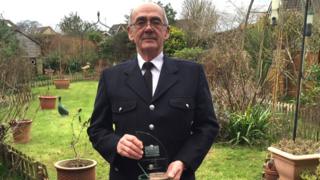 A prison officer, believed to be one of the longest-serving in the UK, has retired after a 32-year career.
Philip Standfield joined Erlestoke Prison in Devizes in 1999 after serving at Bristol's Horfield Prison for 16 years.
The 72-year-old has been a public servant for 56 years, having previously served in the RAF for 24 years.
The Ministry of Justice said he had an "exemplary" sick record and called him an "outstanding prison officer".
It said it believed he was one of the oldest serving officers in the UK.
'Uncle Phil'
Mr Standfield said his first day on the job as a prison officer was "daunting".
"Of course things were vastly different than they are now. Even after 24 years in the RAF the difference was quite astounding, but I adapted shall we say," he said.
He became known as "Uncle Phil" at the prison due to being several years older than his fellow officers.
He described the prison as a "happy place" with "a nice aura about it".
"Prison is a microcosm of life. What goes on on the outside goes on on the inside," he added.