Suspected illegal immigrants arrested after lorry stopped on M4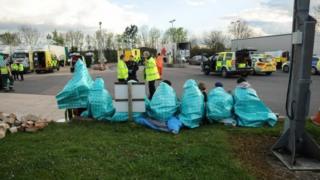 Twenty-one men were arrested after a lorry carrying suspected illegal immigrants was stopped on the M4.
Police were alerted by callers who told them they believed a number of people were trapped in the back.
The driver of the lorry, a 26-year-old Romanian man, was arrested on suspicion of being involved in trafficking of unlawful entrants to the UK.
The rest of the men, aged between 15 and 52, were placed in the care of UK Visas and Immigration officials.
A Wiltshire Police spokesman said the lorry driver was bailed. His vehicle was seized for further examination.