Thieves stalk elderly woman for hours before stealing her purse and savings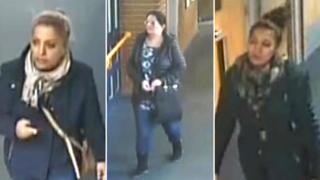 Thieves stalked an elderly woman for hours before taking her purse and £1,250 from her account, police said.
Doreen Edwards, 80, was unaware she was being watched as she withdrew money from a cash point in Swindon.
Over the next three hours, a suspected gang of thieves followed her around and made several attempts to distract her before finally stealing her bank cards.
PC Paul Rhys said he thinks the "very well organised" gang are "operating from somewhere around the Midlands".
Ms Edwards was followed to a cash point on Regent Street on 21 March by a woman, police said.
After getting her pin number, the 80-year-old was followed for nearly three hours as she shopped, had lunch and went to the council's offices.
In a bid to steal her purse, the gang made a "number of attempts to distract her" including dropping a £10 note in the street and asking her opinion on shop items.
PC Rhys said it had been a "particularly well planned out crime" by a gang who were "very determined".
"It's not just this gang of four, there's quite a large number of them and they will mix and match the pairs that go out," he said.
"Without doubt they will do this again but hopefully we'll get them before that happens."
Ms Edwards, said it had been "horrible" to find out someone had been following and watching her.
"I've tried [going in to town] but I'm still nervous, very nervous," she said.