Kennet and Avon canal banks checked for 'badger damage'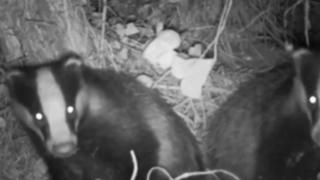 Ecologists are checking the banks of the Kennet and Avon Canal for badger setts amid fears they may be getting too close to the supporting walls.
The Canal and River Trust said having them close to banks is a "challenge"... "as when it comes to digging, they don't always know where to stop".
A spokeswoman added it would look to strengthen the bank, "only if they are close to getting wet".
The 87 mile-long canal links London to the Bristol Channel.
"Prolific diggers, these [setts] can extend over large areas, and include several 'chambers' for the animals to nest in," ecologist Laura Mullholland said.
"In the past, we have had cases where they've dug right through embankments, so this process - to monitor setts and make sure they're not getting too close - is really important.
"What we're looking for is any change in the appearance of the sett, or any signs that it's getting bigger."