Range Rover crashes into the living room of house in Swindon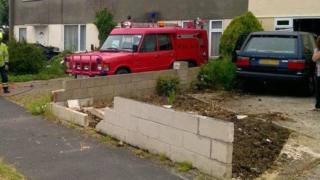 A Range Rover has smashed into the living room of a house in Swindon, narrowly missing an occupant.
The vehicle ploughed into the property in Kingswood Avenue in the Park North area at around 06:15 BST.
A police spokesman said the 4x4 had been involved in a collision with a Mazda and had accelerated into a front room where the home owner was sleeping.
The occupants of the silver Mazda - three or four young men - fled the scene and are being sought by police.
Wiltshire Police said neither the driver of the Range Rover or the occupant of the house were injured.
But a spokesman said the young men, thought to be in their late teens or early twenties, may have have suffered a number of potentially serious injuries including a head injury and a broken arm.
Officers are appealing for anyone with information to contact them.