Mentally ill woman held in police cell and car for 14 hours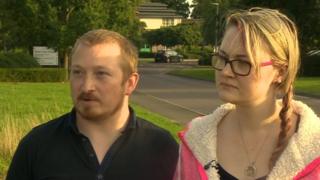 A woman with mental health problems was held for 11 hours in a police cell then three hours in the back of a police car while waiting for a hospital bed.
Katie Simpkins, 23, from Chippenham, was detained under the Mental Health Act but with no safe beds available she was taken into police custody.
She said it was "one of the scariest things" she had ever been through.
Avon and Wiltshire Mental Health Partnership (AWP) has apologised and said the situation "was not ideal".
Tristan Simpkins took his wife, who has emotionally unstable personality disorder, to hospital in the early hours of Saturday after she self-harmed.
He said: "The nurse called the crisis team at which point they turned round and said 'she's in a safe place what do you expect us to do?' So the nurse had no choice but to call the police."
The police drove Mrs Simpkins to Melksham police station because the two NHS beds in the county for patients detained under the Mental Health Act were not available.
'Not a criminal'
Carol Bowes, from AWP, said two beds for the whole of Wiltshire "probably would be enough" if they could move people through the places of safety "as quickly as we would want to".
She added that they were "aiming to increase that number by one".
Police and Crime Commissioner Angus Macpherson said: "The officers, who are in charge of running the place, have a set of rules. They have risks they have to identify.
"And what they're doing is working to a criminal level rather than a health-based level. She's not a criminal and she shouldn't be there. We shouldn't have people in custody in the first place."