Jordan Taylor death: Teen used hunting knife in Trowbridge attack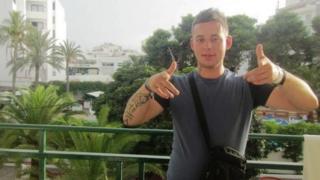 A teenager accused of murdering a 25-year-old man used a hunting knife "designed to inflict damage", a court has heard.
Hayden Maslen, 18, from Park Street, Trowbridge, Wiltshire, denies murdering Jordan Taylor on 12 March.
Bristol Crown Court heard the two friends intended to mug Mr Maslen by using an aerosol can to spray him with.
Mr Maslen says he was carrying the knife for protection and had used it in self-defence.
The court heard Jordan Taylor and Neil Vaughan had been drinking together in the Black Horse pub in Trowbridge, while Mr Maslen had been at a friend's house watching films and smoking cannabis.
Mr Taylor and Mr Vaughan left the pub to buy drugs while Mr Maslen left to walk home, the court heard.
Mr Maslen was in Prospect Place at about 01:20 GMT outside a block of flats when Mr Taylor and Mr Vaughan pulled over intending to attack him, jurors heard.
Mr Taylor was stabbed four times, twice in the back and twice in the front. Mr Vaughan was stabbed in the back.
The court was told the defendant used a hunting knife designed to inflict damage on the way into the body and on the way out.
Self-defence
The friends drove to Trowbridge Community Hospital but as it was closed, Mr Vaughan called for an ambulance.
Despite a quick response, Mr Taylor died from his injuries in the hospital car park.
The defendant handed himself into police five days after the attack, claiming he had the knife for protection and used it in self-defence, jurors were told.
Mr Maslen faces a total of five charges. He also denies charges of manslaughter, unlawful wounding and also wounding with intent.
He admitted a charge of carrying a bladed weapon in court on Monday.
The trial continues.