Emile Cilliers trial: 'Sabotaged' reserve chute 'had never failed'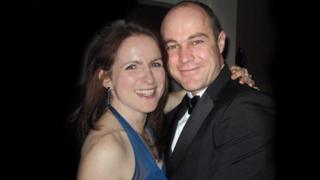 A man accused of trying to kill his wife by sabotaging her parachute removed vital parts that when present have never failed, a court heard.
Victoria Cilliers, 40, suffered multiple injuries in a 4,000ft fall at Netheravon Airfield, Wiltshire in 2015.
Emile Cilliers, 37, denies attempting to murder his former Army officer wife.
Winchester Crown Court heard claims he removed slinks, which attach lines to the harness from a reserve chute, that "never failed" when properly fitted.
Prosecutors allege Mr Cilliers, of the Royal Army Physical Training Corps in Aldershot, tampered with his wife's reserve parachute by removing two of the slinks on the day before her jump.
The army fitness instructor is also accused of a third charge of damaging a gas valve at their home a few days earlier, in the second allegation that he attempted to kill his wife. He denies all three charges.
William "Rusty" Vest, from the company which produces the slinks used by the Army Parachute Association, said thorough testing was carried out on the product and "the slinks never failed".
He told the court, via video link: "We have a thorough quality control process in place. They have a very high breaking strength."
He added if a slink had broken "during a parachute deployment" it would have caused friction burns to the lines of the parachute.
He said he had seen photographs of Mrs Cilliers' reserve parachute, which had never been deployed before, and had not seen any damage.
Mr Vest said the company had supplied 75,000 sets of four slinks and there had only been two reported failures involving main parachutes.
He said the two incidents involved parachutes which had been in poor condition and not well maintained.
He added they had not had any slinks fail in reserve parachutes, which he said were normally kept in "nearly-new or unused" condition.
The trial continues.