Future of Swindon's Lydiard Park in doubt again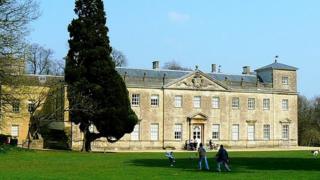 The future of a park and stately home in Swindon is uncertain once again after it lost its main income source.
Chartridge Venues, which runs corporate events at Lydiard House, announced that from April it will no longer operate from the site.
Swindon Borough Council, which owns the estate, said the company was entitled to pull out under its lease terms.
However, Lydiard Park Heritage Trust said the news may threaten their plans to take over running the estate.
The council has been trying to find a way of reducing its annual subsidy of £450,000 to the estate.
In 2016 it considered privatising the park, but Friends of Lydiard Park lobbied for the chance to run it and set up a trust.
Mike Bowden, from the heritage trust, said the long-term business plan for the site may now no longer be viable.
"I would urge them [the council] to talk and consult with Chartridge," he said.
"We have to understand what their position is."
'Minimise the impact'
Swindon Borough Council said it was "inappropriate" to comment on Chartridge's decision.
Cllr Garry Perkins said: "Chartridge has chosen to end its occupation of the premises as it is entitled to do under the terms of the lease."
He added that the council was in discussions with the company to "minimise the impact on any bookings".
A Chartridge Venues spokesman said he would not comment at this time.