Salisbury businesses to get hardship fund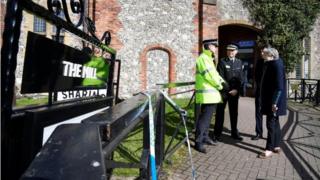 Measures have been outlined to try to boost business in Salisbury following a nerve agent attack against an ex-Russian spy.
Sergei Skripal, 66, and his daughter Yulia Skripal, 33, remain critically ill in hospital, almost two weeks after they were found unconscious.
But large cordons and closures have affected the Wiltshire city.
The council said it was setting up a hardship fund and introducing a free park-and-ride site until Easter Monday.
Additionally, it said it would help businesses apply for rate relief, with the government saying it would waive some business taxes.
Several independent traders, particularly around the Maltings area, say they have seen a major drop in footfall since the attack almost two weeks ago.
A pub at the Maltings, as well as a Zizzi restaurant, have been at the centre of the investigation into the nerve agent attack.
But the cordon has meant other businesses being forced to close.
A meeting was held in Salisbury on Thursday night to detail the plan.
Alistair Cunningham, a senior director from Wiltshire Council, said: "The messages about what's happened in Salisbury have gone worldwide, we have to work together to avoid longer term impact."
John Thompson, the deputy leader of the council, said it has chosen to make the park-and-ride site free but not parking because it would cause "chaos".
But Mr Thompson added the city was regaining control.
"This whole situation is something no council in this country has had to deal with, it's exceptional circumstances. We have over 500 people working to support Salisbury and get to the bottom of this.
"The control is slowly coming back to Wiltshire on a local level, which is what the recovery plan is to really support Salisbury.
"I've every confidence we can support the city to recover."
Claire Singleton, the manager of Crystals, a shop in The Maltings, said the incident was "unprecedented" and - in the 18 years of running it - the city had "never been so quiet".
"All the help from the council is wonderful, it helps, it's needed, My concern is the footfall in coming weeks.
"The money is wonderful and helps people survive but we need footfall back."
As well as Mr Skripal and his daughter falling ill, Det Sgt Nick Bailey also is recovering in hospital after the attack in Salisbury.