School worker jailed for child porn in North Yorkshire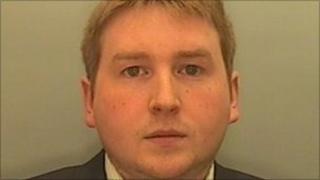 A school IT technician from North Yorkshire has been jailed for two years and eight months after pleading guilty to several child pornography charges.
Oliver Corbett, 25, was sentenced at York Crown Court on Monday.
He had 62,000 indecent images of children and hundreds of similar videos at his home in Dishforth, near Boroughbridge, the court heard.
Police said three officers spent four months sifting through six million images to discover the indecent photos.
It was the largest investigation carried out by North Yorkshire Police's hi-tech crime unit.
Corbett was arrested in September 2009 following intelligence received from the Metropolitan Police.
North Yorkshire Police seized 94 items from his home including computers, hard drives, memory sticks, cameras, videos, DVDs and mobile phones.
'Sickening activity'
Corbett faced 22 charges relating to possessing and making indecent images of children.
He worked as an IT Technician for two North Yorkshire schools. Following extensive investigations it has been established that no children from either school were involved in any of the abuse, North Yorkshire Police said.
Corbett was also given a six-year sexual offences prevention order, disqualified from working with children indefinitely and ordered to sign the sex offenders register indefinitely.
Sgt Geoff Crocker, who was part of the investigating team, said: "Corbett was an IT expert, the schools were presented with a clean-cut and very talented young man with no previous convictions or history.
"The way the computers were set up and the storage of the information made it unlikely that his family would have discovered his collection.
"But despite his technical ability, his sickening activity was discovered by the police and a lengthy investigation pursued."