North Yorkshire's roads and schools hit by snow again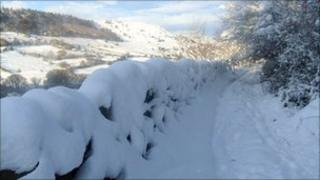 Freezing conditions and more heavy snowfall have caused major problems on the roads across North Yorkshire.
The Highways Agency urged drivers not to venture on to the roads unless their journey was essential.
The A1 was closed southbound in the Leeming area after three accidents, but the northbound carriageway reopened after an earlier closure.
Bus services in York are running a reduced service and the city council said all libraries were closed.
York City Council said it was holding an emergency meeting on how to cope with the severe weather.
Drifts on moors
Meanwhile, more than 150 schools were closed across the county on Wednesday, most in the York and Selby areas, with many expected to remain shut on Thursday.
Selby was one of the worst-affected parts of the county after heavy snowfall overnight.
Mike Roberts, head of highways operations at North Yorkshire County Council, said other problem areas for traffic included the North York Moors, Yorkshire Dales and coastal areas, where there were snowdrifts up to 4ft (1.2m) deep.
East Coast said it was running rail services through North Yorkshire but with some delays.