Prince Charles honours troops at York Minster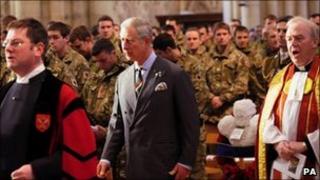 The Prince of Wales laid a wreath in North Yorkshire as the 4th Mechanized Brigade remembered 72 personnel who died in Afghanistan.
About 600 military personnel, dignitaries and many relatives of those who died packed York Minster for a Service of Memorial and Thanksgiving.
The 4th Mechanized Brigade returned from a six-month tour in Helmand in October.
Prince Charles was joined at the service by Defence Secretary Liam Fox.
General Sir Peter Wall, chief of the general staff, and representatives of other nations militaries serving alongside the British in Afghanistan were at the service.
As the names of 72 soldiers, Marines and other personnel were read out, the Minster's bell tolled.
Singer Russell Watson also performed during the service.
York reception
More than 150 relatives of injured or bereaved service personnel were among the congregation.
They were later hosted at Imphal Barracks in Fulford, York, along with the prince and other guests.
The 4th Mechanized Brigade was 6,500 strong for its deployment.
Most of its component units, including The Royal Dragoon Guards and The Queen's Royal Lancers, are based at Catterick in North Yorkshire.
But other units which made up the brigade are based elsewhere in the UK, including 40 Commando Royal Marines, based in Taunton; 1st Battalion, The Mercian Regiment, based in Cheshire; and 1st Battalion, The Royal Regiment of Scotland, The Royal Scots Borderers, based in Edinburgh.