Thirsk factory fire asbestos risk 'minimal'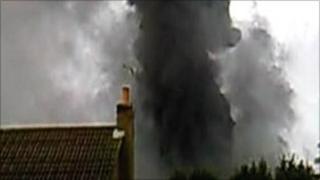 Firefighters who tackled a fire at a disused factory in North Yorkshire have told residents the risk of asbestos contamination is "absolutely minimal".
The fire at the former turkey factory on the Dalton industrial estate near Thirsk started on Wednesday afternoon.
Nearby residents were advised to stay indoors and keep windows closed as thick black smoke engulfed the area.
The fire service said there was "low grade" asbestos on the site but efforts had been made to prevent airborne dust.
More than 30 firefighters had spent about six hours bringing the fire under control and they finally left the scene at about midnight.
Rob Horton, from North Yorkshire Fire and Rescue Service, said: "The asbestos involved is what we class as real low grade, it's encapsulated in cement.
"It's the corrugated sheets you probably see all over North Yorkshire.
"We employed a number of water sprays to suppress any dust off that so the risk was absolutely minimal."
Fire officers returned to the scene on Thursday to establish the cause of the fire, which is believed to be accidental.